The Crafty Craft of Leanne Prain
Thursday, May 8, 2014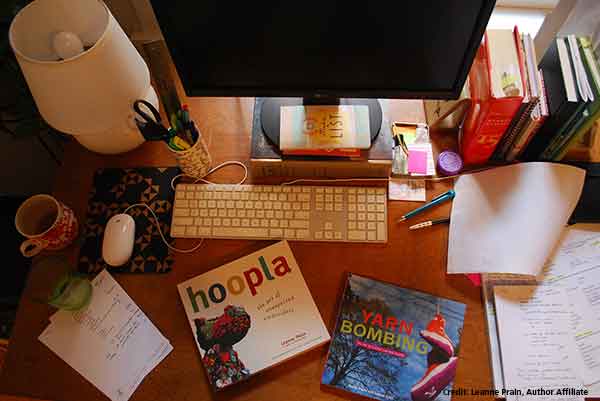 A Little About Leanne Prain...Writer and designer Leanne Prain is the author of two books, Yarn Bombing: The Art of Crochet and Knit Graffiti (co-authored with Mandy Moore) and Hoopla: The Art of Unexpected Embroidery, both published by Arsenal Pulp Press. Her third book, Strange Material: Storytelling Through Textiles, will be published by Arsenal in September 2014 and she has an essay forth-coming in Betsy Greer's Craftivism, forthcoming Spring 2014.
She enjoys interviewing crafters and designers about their motivations and their techniques while sharing examples of how makers are creating a more positive world, one stitch at a time. A strong advocate of breaking down the barriers between high brow and low brow art, her work explores commonalities between seemingly disparate subject matters.
Leanne holds a BFA in Creative Writing and Art History from the University of British Columbia and a Master of Publishing degree from Simon Fraser University. Leanne is a member of the Society of Graphic Designers of Canada (GDC) and The Writers Union of Canada. She blogs about craft, design, writing, and street art at leanneprain.com.