Artist Mary Joyce: Engaging the Senses
Thursday, May 8, 2014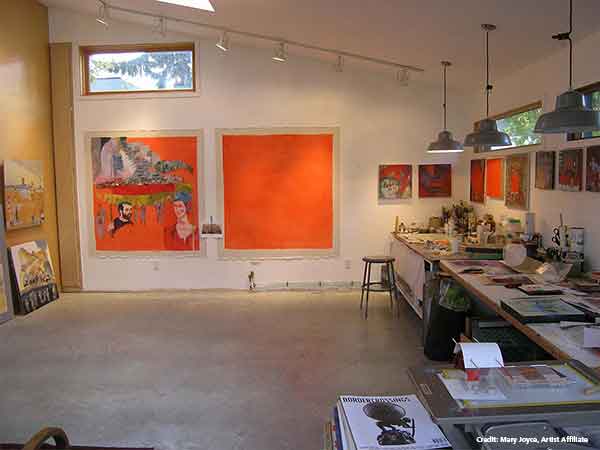 A Little About Mary Joyce...Mary Joyce is a Canadian artist born in Montreal, living in Edmonton. An award-winning Canadian printmaker, drawer and painter, exhibiting in Canada and Europe since 1986, her website is: http://www.maryjoyceart.com.
From 2000 to 2012, her work sought physical evidence in memory and consciousness of the imprinting of sensory information from rapid passage through time and space on the artist's body, mind and heart.
"Mary has been a force in the Edmonton art community for many years as a printmaker, painter, teacher and organizer. I curated an exhibition of her paintings entitled Speeding Subject that featured some of her most innovative and beautiful work. The Speeding Subject exhibition proposed a cinematic and sculptural approach to painting and drawing by conceiving pictorial space from the back of a motorcycle! The resulting series is a marvelous fusion of lyrical beauty and sensual exhilaration." - Marcus Miller, 2011
Since 2012, her activism investigating speed, time and space has brought her attention to an upsurge of complex movements within cities, of crowds, red squares and safety pins.  
She is delighted to have completed construction of a well-lit, spacious new studio in 2011. 
Her work is collected in the Alberta Art Foundation; Society of Northern Alberta Print Archives; the Misericordia Hospîtal, U of A Hospital, University of Alberta; WP Wagner High School; the Edmonton and District Labour Council, Society for Assisted Cooperative Recovery from Eating Disorders, all in Edmonton; Glenbow Museum, Calgary; Hamilton Art Gallery, Hamilton, Ontario; Ad Axiom Gallery, Burlington, Ontario; Martha Street Studio Archives, Winnipeg, Manitoba; East Husky Oil Project, Newfoundland; and private collections in Canada, the US and Europe.