QUESTIONS
on using published materials? Looking to
LEARN MORE
 about licensing? Confused about copyright in general?
WE CAN HELP.
Click to contact us
or call 647-994-1549
Business licence use case
THE CHALLENGE
A complicated copyright-compliance workflow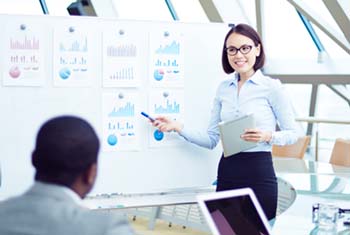 Rachel is the Manager of Information Services at a mid-sized Canadian consulting firm specializing in providing strategic advice about engineering, risk-mitigation and project-management to the energy and mining sectors.
Rachel and her team fill regular requests from the firm's research and sales departments to locate critical print and digital material.
Some requests are fulfilled through the firm's subscriptions to several leading research databases that cover all of its employees across Canada. The terms and conditions of the firm's database subscriptions allow for reuse of content in some circumstances, but not always.
When Information Services needs material not found in a database subscription, Rachel and her team follow a copyright-compliance workflow. It requires that content publishers are contacted in order to obtain permission before that content can be used. In cases where permission is eventually granted, prices often vary.
"While the workflow we use mitigates risk of infringement and helps to ensure compliance," says Rachel, "most of us find it a hassle. It's time-consuming, complicated and makes it hard to budget for content-usage costs."
THE SOLUTION
A visit to the Access Copyright website sparks an idea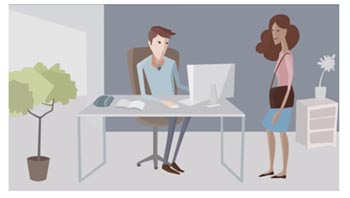 Recently, while on the Access Copyright website, Rachel viewed a tutorial video that explained copyright challenges and issues in the workplace, as well as the benefits of the Access Copyright business licence
Rachel saw an opportunity for her firm and contacted us. Together, we built a business case for why Rachel's firm should sign an Access for Business licence. After presenting the business case to her immediate director, Rachel received authorization to sign a licence that would cover the content-reproduction and sharing activities of all her firm's employees.
THE RESULTS
An Access for Business success story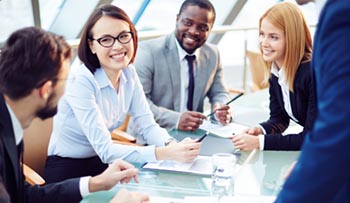 The firm has been using Access for Business for a few months. The licence has definitely simplified its content-usage and copyright-permissions workflow.
Time and effort saved: Through Access for Business' pre-cleared permissions, research and sales staff can quickly copy and share from among millions of published titles in Access Copyright's repertoire. They no longer have to contact individual publishers and wait to receive permission.
Budgeting made easier: The licence features a set price per full-time employee.
Distribution to external individuals: Staff take advantage, where available, of the opportunity to copy and distribute content to individuals outside the organization on a pay-per-use basis.
Access to even more content via Reprints Desk: Rachel has created an account for her firm on Reprints Desk, a leading provider in document-delivery services. Through our partnership with Reprints Desk, Rachel has been able to obtain a high-quality copy of critically important journal articles for staff. She has used our online Title Search and Permissions Business Look-Up Tool to check for reuse rights available for this content under Access for Business.
"Access for Business was exactly what we needed," says Rachel, "to make it easy for everyone here to maximize the value of the print and digital content we use. It's made a huge difference."
Become another Access for Business success story! Learn why our licensing solutions are right for your organization. Contact Access Copyright at info@accesscopyright.ca or 416-868-1620 (toll-free 1-800-893-5777) ext. 342